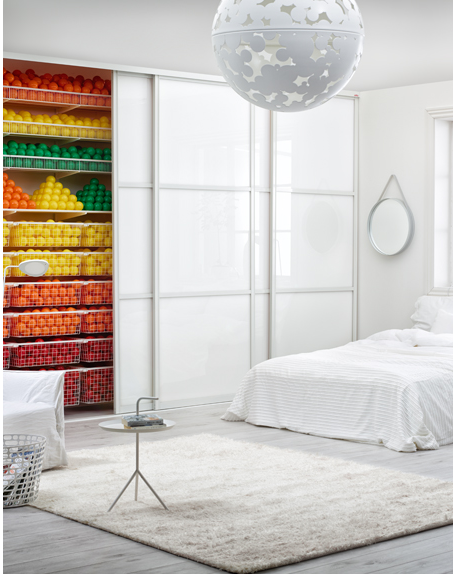 Sleep tight in 2015!
Make your new year's resolution come true by finally getting organized this year. When everything is in the right place it's easier to get a good nights sleep.

Buy your Elfa storage solution NOW and make 2015 a joy of space and peace of mind.
Using Elfa to organize your space becomes addictive! As your needs grow or change you can always rely on Elfa's growing range of products to clear your clutter. Classic is a storage system in steel and is the most flexible system that allows you to customize your needs. Décor gives your storage solution an exclusive and luxurious finish. Made of real wood and available in birch, walnut stained birch and white
All our products can be combined in countless ways to create the ultimate storage solution for your home. See how you can get organized with Elfa below:
Organize the bedroom with Elfa
When you are planning your storage in the wardrobe, place your clothes as you wear them on your body; then your storage will feel natural. Then you don't have to look for clothes you know you have – but just can't find! Put hats and bags on shelves at the top and shoes at the bottom in shoe racks. And in between, you store blouses, shirts, skirts, trousers and tops.
By choosing wall-mounted storage, you free up the floor space. And the more of the floor you can see, the easier it will be to keep clean and tidy.
We offer different solutions for shoe storage. Gliding shoe rack - the perfect choice for your high heel shoes and can hold up to nine pairs. Gliding shoe shelf - can organize from four up to six pairs of flats or men's shoes. Arrange a little extra space for small items with our hooks, trays, tie and belt rack. They are easy to assembly and you will get a smart, flexible and accessible storage.
Organize the kitchen with Elfa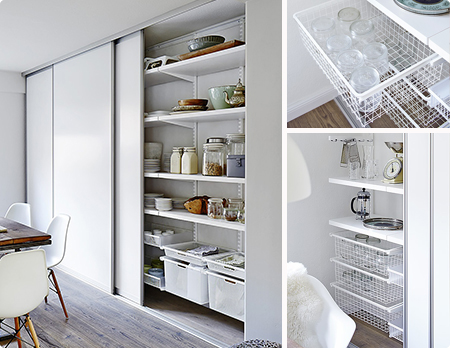 Create an airy space and give your kitchen a personal touch with Elfa open shelves. Choose gliding drawers for even more flexibility and accessibility. They are easy to install and combine with our other products. The drawers are available in both wire and mesh and come in three depths: 85 mm, 185 mm and 285 mm.
Organize the hallway with Elfa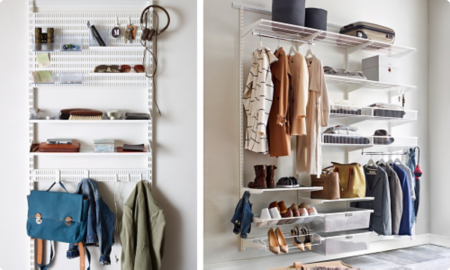 First impressions are lasting impressions and the first room you enter in a house is the hallway. This is why it is especially important to keep it tidy and uncluttered. Hallways should have beautiful furniture that meets the storage needs of family and guests.
It's a good idea that things you need, such as keys, mobile phone, glasses and wallet, have their own place in the hallway. Then you don't have to hunt around for them. If you place the shoes on a wire shelf, the sand and grit will fall between the shelves and it is easy to vacuum clean the floor. Remember that you can always reorganize the shelves, shoe racks and drawers. That's what makes our system so smart and flexible.
Did you know that a messy home often create conflicts in the household?
The inability to stay organized affects relationships and personal finance. Being disorganized at home affects not only the peace of the family, but also has economic impacts. Many people buy unnecessarily things and gadgets they already own, because they do not find those they already have!
Buy Elfa at your local dealer
Buy your Elfa storage solution NOW and make 2015 a space of joy and peace for your mind. Our retailers will help you to measure and plan your storage to create the ultimate solution for your home. Click the button below map of retailers.